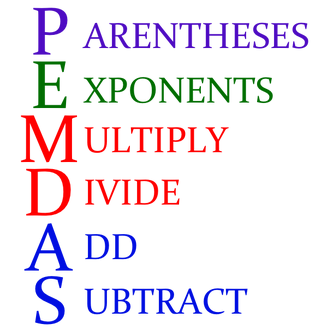 P.E.M.D.A.S is a math lesson usually taught between the 4th and 6th grades in the United States. It pertains to the order or precedence of mathematical evaluation - evaluate parentheses first or with most importance, and subtract last or with least importance.
When the evaluation are only Add & Subtract or Multiply & divide, the parts will be evaluated form left to right.
Examples of Correct P.E.M.D.A.S useage
Example 1: 2*5+4*3
by P.E.M.D.A.S , Multiply is first , so we evaluate 2*5 and 4*3 , which equals to 10 and 14
Next is Addtion,Starting from left to right.
Community content is available under
CC-BY-SA
unless otherwise noted.