A cyclic Quadrilateral is a special type of quadrilateral that can be inscribed inside of a Circle.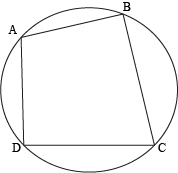 .
Properties
Common Cyclic Quadrilaterals
Ptolemy's Theorem
Ptolemy's Theorem states that
theorem can be proved by drawing point
This
on
such that
similarity, we have that
From triangle
and
Cross-multiplying and then adding both equations gives us
We know that
, so hence,
Community content is available under
CC-BY-SA
unless otherwise noted.